Jeanne Lucille Adzigian (1921-2006), née McLea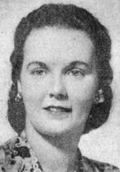 Jeanne McLea was born on 14 Jan 1921, in Waltham, Massachusetts, the eldest child of Alexander and Henrietta McLea. She and her family moved to Wellesley, Massachusets, where she resided for over 75 years. She later married George Adzigian and together they had four daughters. Jeanne Adzigian died peacefully on 10 Sep 2006. She was 85.
As Jeanne was growing up, she displayed her musical talent by playing the piano and violin. She had a passion for reading, especially historical novels and mysteries. She loved the beach and ocean, enjoying many summers at the family home on Martha's Vineyard.
For many years, Mrs. Adzigian worked as a dental assistant in Wellesley. She was very active in women's clubs at the Wellesley Hills Congregational Church, where she met her future husband, George. Mr. Adzigian fondly remembered seeing her at church wearing a yellow suit. He was taken by her beauty and poise, and they were married on 10 Sep 1949.
Mrs. Adzigian encouraged her four daughters to work hard, be kind to others and to get a good education.
She loved celebrating with her family at birthdays, holidays and any special occasion. She was totally devoted to her family and church.
Mrs. Adzigian was survived by her husband, George Adzigian; her daughters, ?Linda, ?Sally, ?Caroline, and ?Betty; her four grandchildren, Patrick, Sarah, Jessica, and Jonathan; and her three brothers, Kenneth, Norman, and Warren.
A Memorial Service was held Thursday, 14 Sep 2006, at 11 a.m. at the Wellesley Hills Congregational Church, 207 Washington Street in Wellesley.
This biography is an edited version of the obituary published in the Wellesley Townsman, 14 Sep 2006.