Kenneth Richard McLea (1924-)
Kenneth Richard McLea was born in 1924 in Massachusetts, the second child of Alexander McLea and Henrietta Cook.

Kenneth in high school.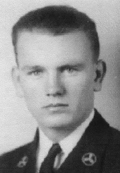 Kenneth in the Naval Reserve, World War II.
Kenneth served with distinction as an engineering officer aboard the U.S.S. General H.W. Butner, AP-113, 1944-1946.
Kenneth currently lives in California.