Mary McLea (c.1862-1942), née Hughes
Mary was a nurse and the second wife of James Brown McLea.
Born in Glasgow, Scotland, she came as an older woman to the United States, and married James on 31 August 1911 in Cambridge, Massachusetts, a month after having made the ocean crossing in the company of James' mother Janet.
She was then stepmother to seven living children, although the eldest by that time were starting families of their own. She was typically called Mary Hughes, even by her own husband, rather than Mary McLea.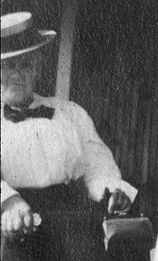 Mary Hughes McLea. (Click to see her with her McLea stepdaughters.)